Podcast Idea: Pun Court
A podcast to make you a better punner.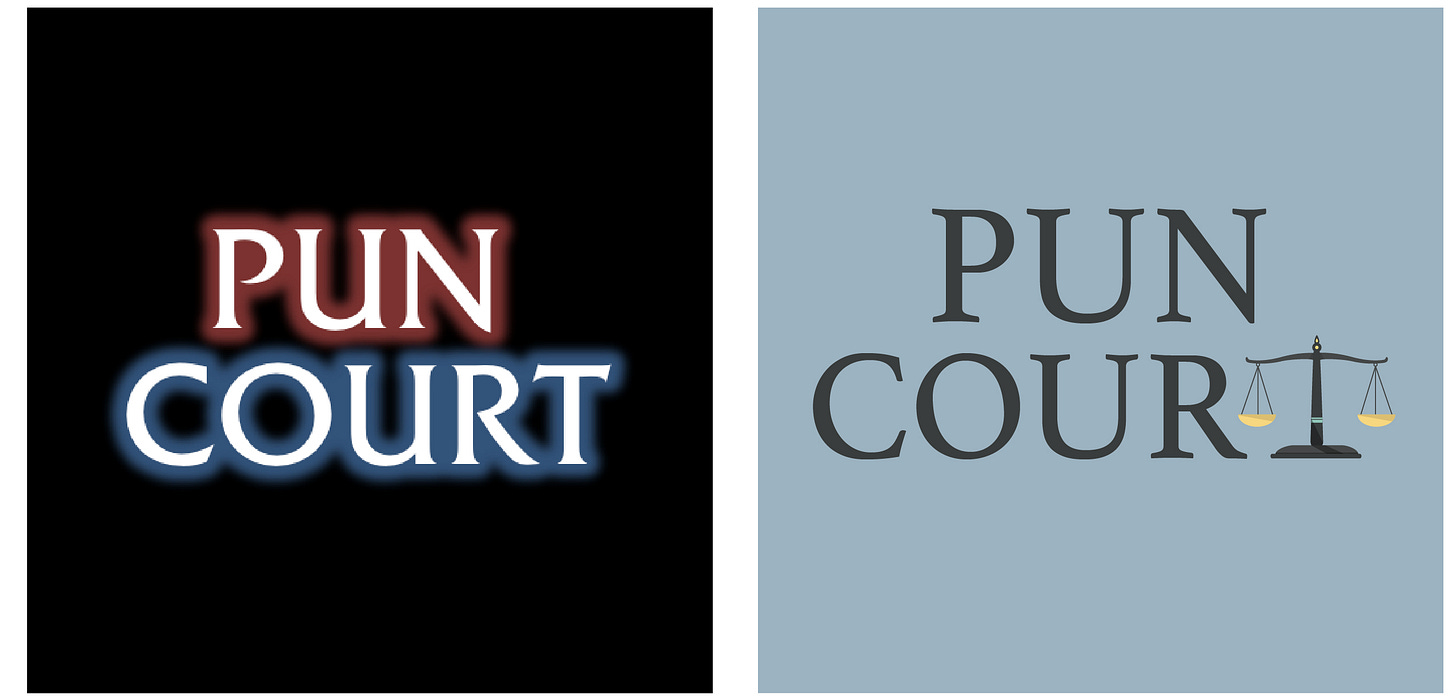 Description: Do you think punning is genetic? Are some people born with it, and others not? I didn't get the pun gene, if it exists, but I did get whatever gene makes me appreciate puns. Noah Veltman, the host of Pun Court, got extra copies of the pun gene. Whenever I need a pun, I text him and he provides. He also often provides even when I am not in need of a pun. Such is the nature of Pun People. Once you accept their puns into your life, you cannot choose when they are delivered. Like hiccups. And much like hiccups, they are cute at first, then annoying, and then sometimes even painful. Anyway, the point here is that this is a podcast about puns hosted by the best Pun Person I know, Noah Veltman. To verify his pundacity (I told you I didn't get the pun gene) here's a series of messages he sent me when I asked him for help coming up with the name of an episode about nuclear fusion.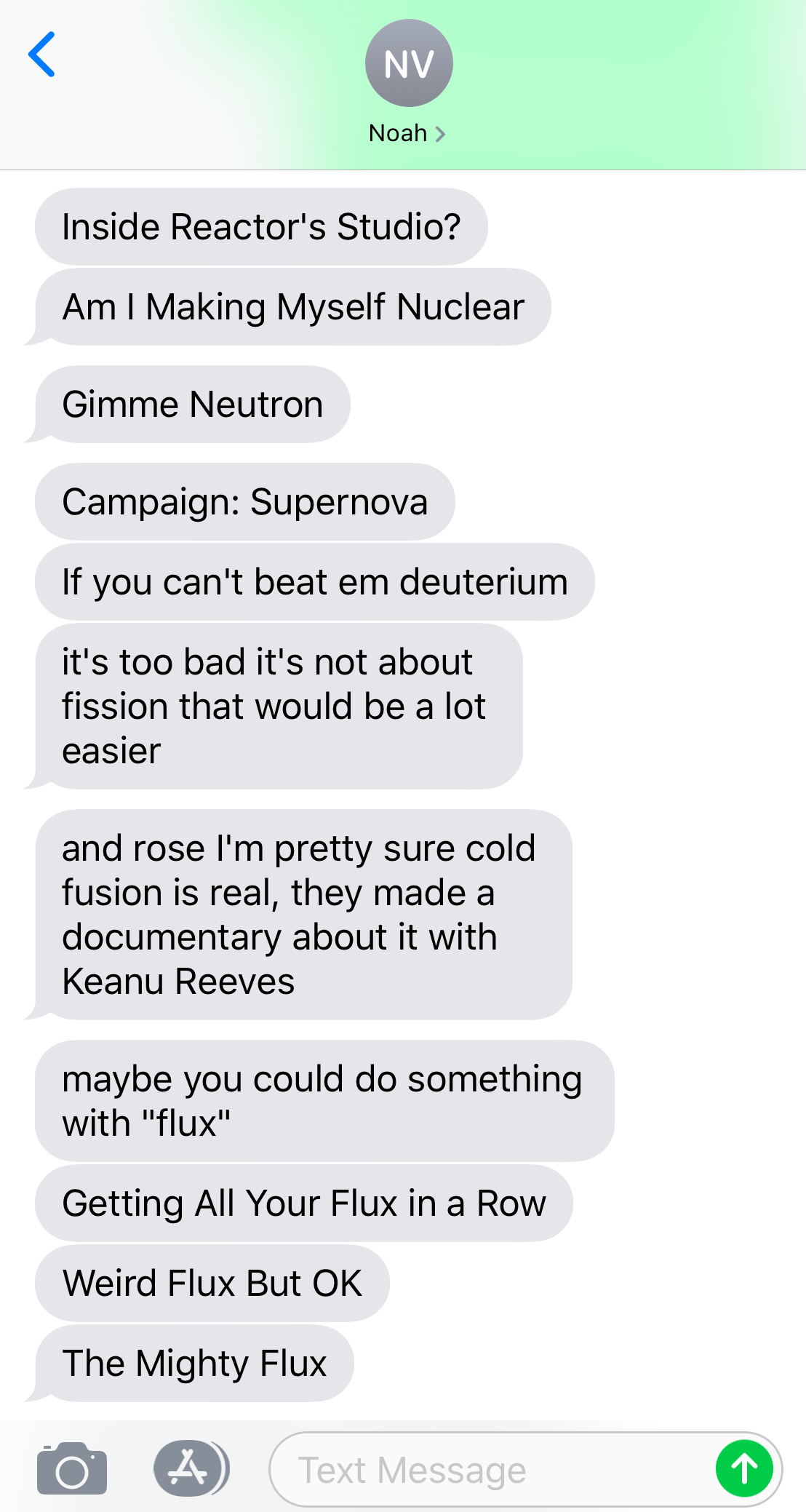 On Pun Court, Noah serves as the Pun Judge, presiding over a panel of judges who weigh in on each case of wordplay. They decide whether the pun in question is even a pun, evaluate "overpunning" (see: The Blaffair to Rememblack), and score puns on degree of difficulty, synthesis and mouthfeel. Which puns will reign supreme? Only time will tell.
Host: Noah Veltman*
Executive Producer: Noah Veltman**
Comps: Good One: A Podcast About Jokes meets Punderdome.
Sample Episode 1: Going to the Dogs. On this episode, Noah is joined by Renee Colvert* (host of Can I Pet Your Dog?) and Kristen Bell* (known animal lover) to discuss the ins and outs of dog related puns. From Beowoof to Barking Mad! to Rainin' Cats and Dogs to Howl-A-Day Inn, to Sit Happens they weigh in on who has the very best doggy related pun.
Sample Episode 2: The Teeth Have It. Dentists really need all the help they can get making people laugh. Puns to the rescue! Ken Jeong* (former doctor) and Hannibal Buress* (who plays a dentist on Broad City) join Noah to talk toothsome wordplay. Which puns have teeth and which don't?
Audience: Pun appreciators and small business owners looking for names.
---
If you have a podcast idea that you'd like to see me turn into a Podcast Idea, send it my way! rose.eveleth@protonmail.com, or just reply to this email.
---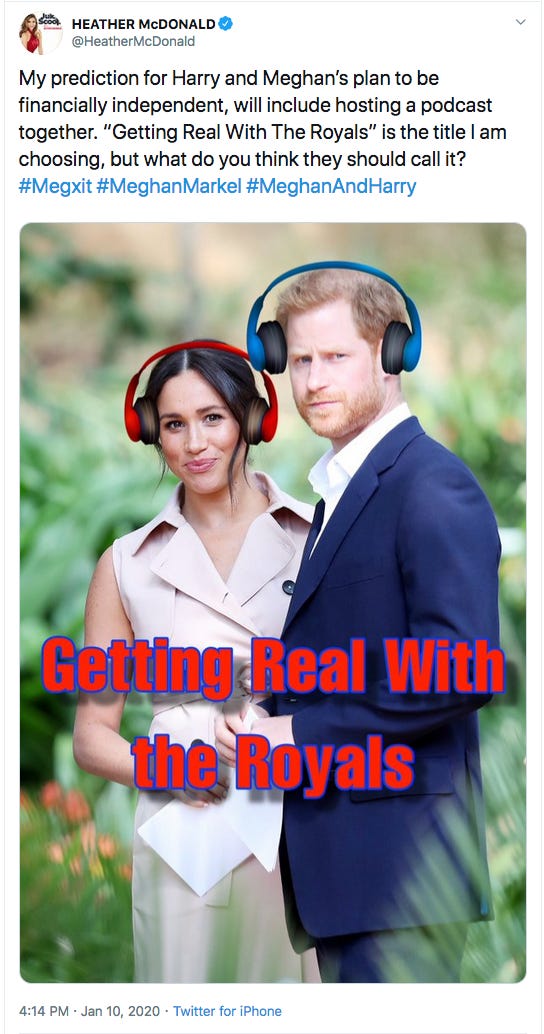 * Hosts and guests have not signed on in any way. I'm making stuff up here!
** This newsletter is for fun. Ideas belong to their initial creator, credited here as Executive Producer. Don't be a dick and don't steal these ideas. If you love a show, and really want to get it made, get in touch with the person who came up with it.
Long live independent podcasts. Long live bad ideas.