Podcast Idea: Hobby Drama
A podcast about hobbies you didn't even know existed, and the people who fight about them.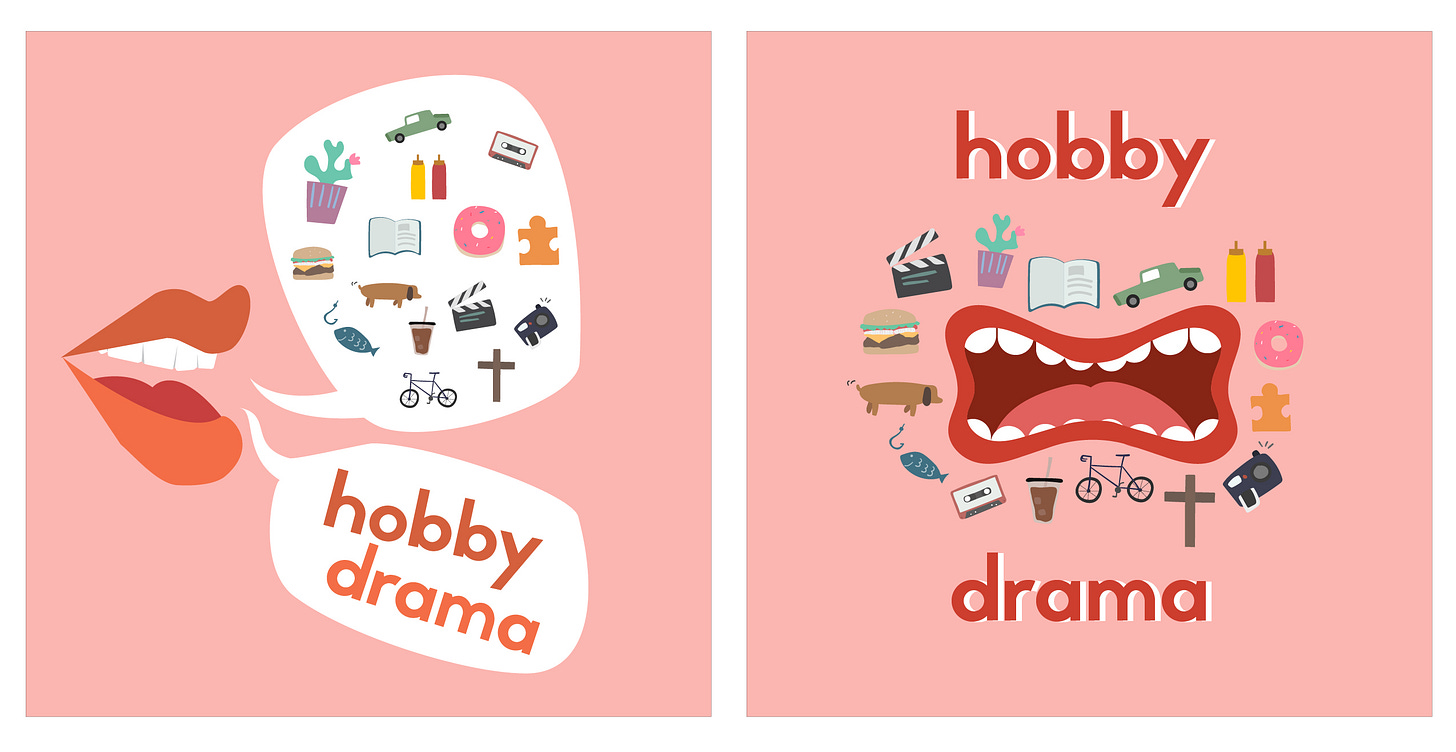 Description: When I was a kid, any time we encountered someone with a weird interest my mom would throw up her arms and dramatically yell "there's a hobby for EVERYBODY!" as if she were on some kind of sitcom with a laugh track. The thing is, she's right. Mechanical typewriters, Lolita cosplay, bubble gum, a line of motorized model kits resembling robotic animals called "Zoids," there's really and truly a hobby for everybody. And where there are groups of people, there is drama. This is a podcast, about that drama. Every episode, a delegate from a hobbyist group/community brings our host Nick Offerman* up to speed on the latest infighting in their little world. The guest will have to explain to Offerman* what this hobby even is, and why the drama matters. At the end of each episode, Offerman* must offer his verdict on the controversy. (Full disclosure, there is a subreddit for this exact thing, and this is basically just a podcast version of it with a famous host. This newsletter is for fun.)
Host: Nick Offerman, hobbyist*
Executive Producer: Rose Eveleth**
Comps: Lizard People meets Judge John Hodgman. (Or, r/HobbyDrama meets r/AmItheAsshole)
Sample Episode 1: Clam Chowder is not just a delicious creamy food item, it is also ground zero for this drama-filled episode. You might think that clam chowder lovers would have a deep appreciation for the dish's many forms: New England, Manhattan, Rhode Island, they each have their own amazing version. You would be mistaken. On this episode, Offerman* must figure out how a Facebook group dedicated to clam chowder ended up with a grown man sending his rival clam chowder in the mail. "Alice's husband came in and threatened to go to the police, but George hadn't technically threatened Alice. He'd just sent her clam chowder." Is sending clam chowder by mail a crime? Technically no. Should it be? Probably yes.
Sample Episode 2: Is the fairy queen from the Tinker Bell franchise a war criminal? This is a question that has apparently embroiled a small (but vocal!) group of fans of a series of Disney books published in the 2000's. I'm just going to quote from this reddit post because it's too good: "Also, Pixie Hollow kind of functions like a utopian commune if you look at its economy. So it's not technically incorrect to say that the plot of the Disney Fairies books revolves around a war criminal dictator and her communist empire. This, naturally, alarmed parents, and started a debate about whether Tinker Bell was a dirty anti-American commie. Fans started arguing in the basis that it's actually Ree who is the dirty anti-American commie, and Tinker Bell is a member of the underprivileged working class she oppresses, and, well, things just kind of spiraled from there."
Audience: People who hate-read every single money diaries story, and who love to Tweet about Am I The Asshole threads. They most likely have their own weird hobby drama that they love to bore friends with, and dream of being a guest on this show.
---
If you have a podcast idea that you'd like to see me turn into a Podcast Idea, send it my way! rose.eveleth@protonmail.com, or just reply to this email.
---

* Hosts and guests have not signed on in any way. I'm making stuff up here!
** This newsletter is for fun. Ideas belong to their initial creator, credited here as Executive Producer. Don't be a dick and don't steal these ideas. If you love a show, and really want to get it made, get in touch with the person who came up with it.
Long live independent podcasts. Long live bad ideas.